Working with Aberystwyth University's Ceramic Collection
We are very pleased to announce that we have four talented young ceramicists based in Wales who will be working with the collection to make new work for a group exhibition early next year. We are very grateful to Nantgarw China Works and Potclays LTD for supporting this project. Details of the artist and links to their websites are below:
Ross is currently undertaking a MRES Ceramics at Cardiff School of Art and Design (CSAD) and recently demonstrated at the International Ceramics Festival. He uses digital technology such as 3D printing technology and modelling software to design moulds informed by digital scans. He then creates slip-cast pieces, combining cutting edge technology with traditional ceramic techniques. He will be responding to the Swansea and Nantgarw porcelain works in the collection, using a 3-D scanner to take scans and decoding the digital information to make new work.
Elin graduated with a BA in Ceramics from Cardiff School of Art and Design in 2019 and was a recipient of the Potclays Award for innovations in clay. She recently demonstrated at the International Ceramics Festival and is currently working in CSAD's Incubation Unit. Elin makes large scale thrown vessels which she deconstructs with dramatic cuts, rips and tears to explore the tension in clay. Elin will be looking at the work of Frances Richards in the collection and is interested in her lidded pots and majolica decoration.
Nathan studied a BA in fine art at Cardiff Metropolitan University and completed a Masters in Ceramics in 2018. He particularly likes working with difficult clay bodies and experimenting with glaze, often writing glaze recipes late into the night. He had his first solo show 'Small Worlds' in Cardiff earlier this year. For this project he will be responding to work made by Reginald Wells, looking at not only his glaze techniques but also at how Wells originally displayed his work at exhibitions.
Hannah is studying for a Masters at Cardiff Metropolitan University and has previously studied at Falmouth University (Cornwall) where she did a BA Undergraduate Degree in Contemporary Crafts. She spent many years working in an antiques centre which led her to question the appreciation of objects.  She references historical 17th and 18th century European porcelain in her work, creating her own elaborate non-functional porcelain pieces. She will be making work in response to Nantgarw porcelain plates in the collection, and is interested in the use of hand painted decoration to cover small firing faults.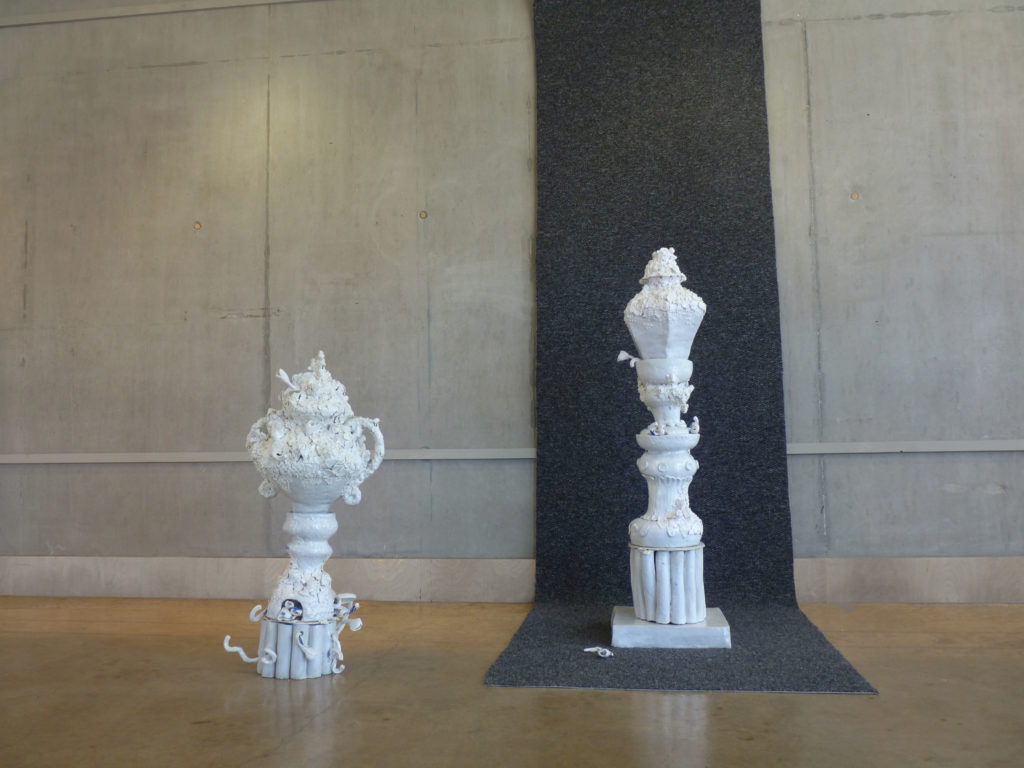 This project is supported by the Arts Council of Wales, Nantgarw China Works and Potclays LTD.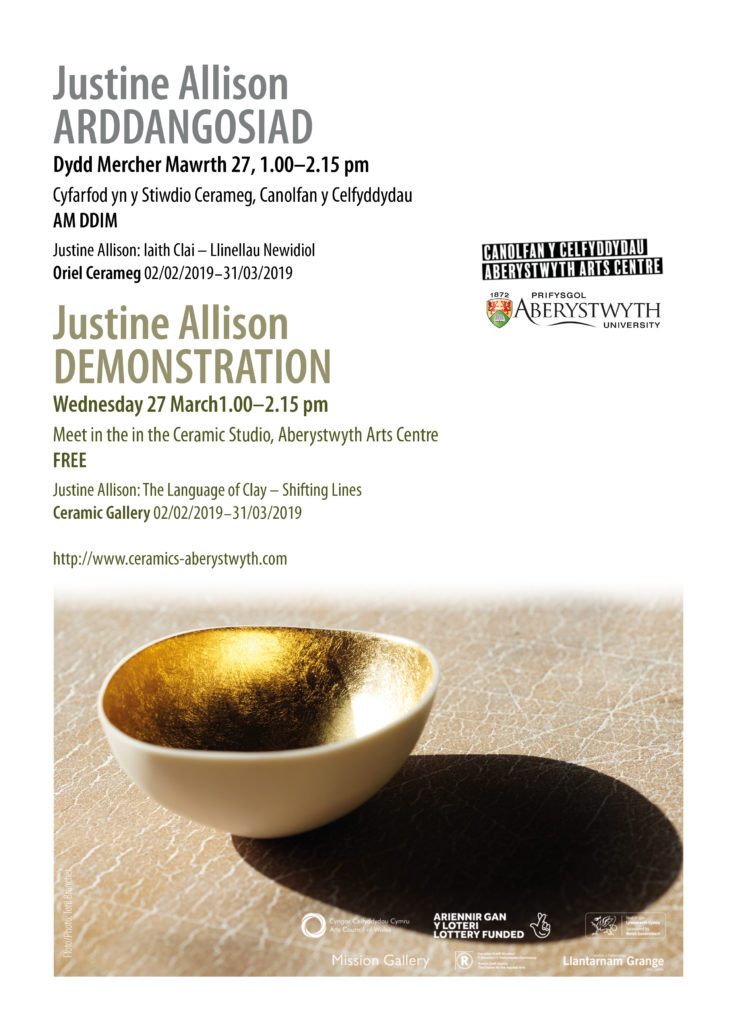 Justine Allison
ARDDANGOSIAD/DEMONSTRATION
Dydd Mercher/ Wednesday  Mawrth 27 March1.00–2.15 pm
Cyfarfod yn y Stiwdio Cerameg, Canolfan y Celfyddydau
Meet in the in the Ceramic Studio, Aberystwyth Arts Centre
AM DDIM/ FREE
Iaith Clai – Llinellau Newidiol/ The Language of Clay – Shifting Lines
Oriel Serameg/ Ceramics Gallery
02/02/2019-31/03/2019
http://www.ceramics-aberystwyth.com