Incubator Project:
Working with Aberystwyth University's Ceramic Collection
We are inviting three emerging makers to develop ceramic work in response to ONE specific part of our collection.  Artists can choose from:
Each artist should demonstrate an imaginative, innovative and exciting response to any of the above by producing new work for a group exhibition to take place in the Ceramics Gallery at Aberystwyth Arts Centre from January – March 2020.
Applicants:
Applicants must have graduated from a course featuring ceramics in higher education (including 3-D design, interdisciplinary courses etc.) within the past 3 years OR be under 25 years of age.
Applicants must be based in Wales.
Aim:
This opportunity should help bridge the gap between leaving education/training and working towards preparing for gallery exhibitions. Working with curatorial staff Louise Chennell and Neil Holland, the artists will learn practical and professional skills for staging an exhibition such as:
Responding to a brief – developing creativity and professional practice.
Organising a working timeline – research time, preparing work for exhibition and display as well as preparing publicity material.
Marketing – creating an artist statement, creating images for publicity, writing texts for gallery interpretation, developing an online presence.
Preparing for exhibition and display, packing work, organising delivery, calculating prices and preparing sales lists.
Working with others – curators, technicians, education team etc.
Developing ideas for education and engagement with the public, e.g. school education, family learning, gallery informal self-guided education.
Evaluation of their work and experience.
Key Stages of Activity:
Research the chosen area in the Ceramics Collection in Aberystwyth (using the pieces in the collection and the Ceramic Archive)
Study and develop ideas for design considering the existing exhibition cases and available resources in the Ceramics Gallery.
Make new work (can also include audio visual material).
Prepare publicity material
Submit ideas for community engagement or learning activities.
Selection of work and delivery to exhibition.
In addition, the Artist may be expected to:
Give talks about their work
Participate in the evaluation of the project
Provide documentation on the experience for use in reports, presentations and social media
Develop at least one community engagement or learning activity.
Positively represent the Ceramics Collection at Aberystwyth University
Fees: £1500 inclusive of materials and transport, work to be sold at 40% commission to the Gallery.
Copyright and Ownership
The copyright and all intellectual property rights in the created works and/or documents will remain vested in the Artist.
Equal Opportunities
Aberystwyth University is committed to developing, promoting and supporting equality and diversity in all our practices and activities. For further information please see Aberystwyth University's Equal Opportunities' Policy.
 For further information and how to apply
Please complete an application form (below) and submit with the required information to:
loc@aber.ac.uk  with the heading Incubator Project in the subject of the email.
Incubator Project Application Form 2019
Application Deadline: 31st August 2019
This project is supported by the Arts Council of Wales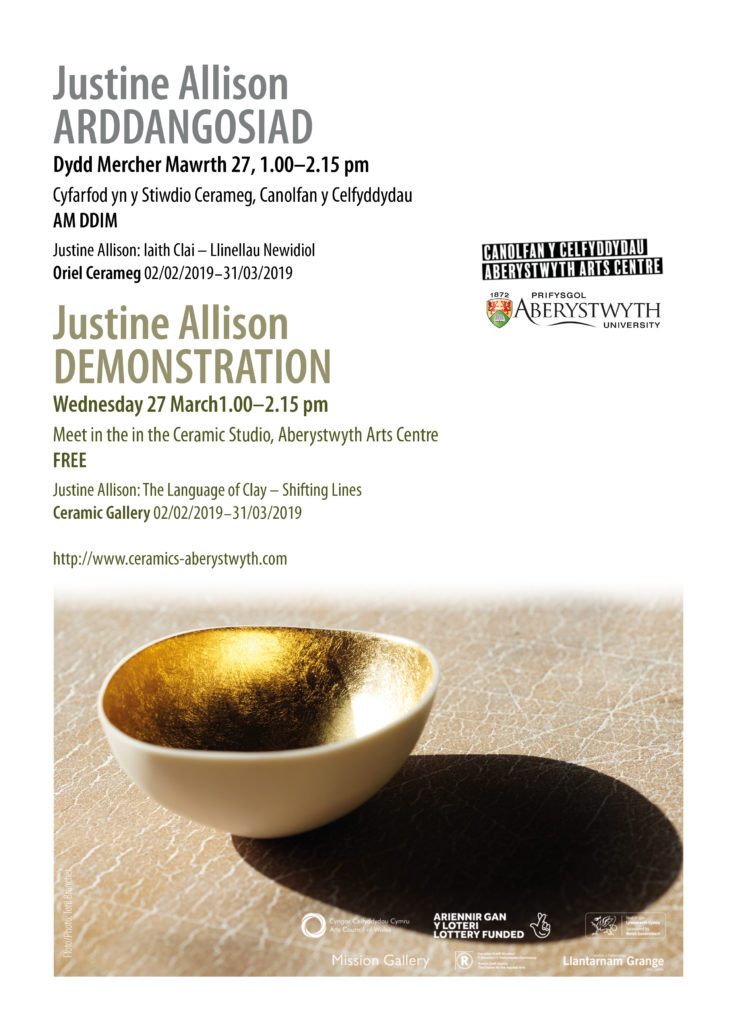 Justine Allison
ARDDANGOSIAD/DEMONSTRATION
Dydd Mercher/ Wednesday  Mawrth 27 March1.00–2.15 pm
Cyfarfod yn y Stiwdio Cerameg, Canolfan y Celfyddydau
Meet in the in the Ceramic Studio, Aberystwyth Arts Centre
AM DDIM/ FREE
Iaith Clai – Llinellau Newidiol/ The Language of Clay – Shifting Lines
Oriel Serameg/ Ceramics Gallery
02/02/2019-31/03/2019
http://www.ceramics-aberystwyth.com